On May 11, 2023 (UTC+4), the Free Play to Earn (FP2E) GameFi, Mhaya announces finishing up 5 Million USD fundraising for its Pre-A round. The fund is going to be used for accelerating Mhaya ecosystem development and supporting the Mhaya2023 Grant Game Contest (GGC) with a prize pool of up to $2,000,000 MAYA and massive NFT drops.
Mhaya2023 is a Free Play to Earn (FP2E) NFT-based PVE/PVP game derived from the classic board game, Monopoly. As a multichain game, Mhaya2023 stands out with its free and stake dual pools supported by liquidity consumed in-game daily rewarding the players. The reflection token HAYA is the penalty or reward in-game, proportional exchanges into MAYA, the governance token. This innovative seasonal reproduction pool balances deflation as well as allows healthy tokenomic to prevent game cheating.
After 9 months of development, Mhaya2023 is delicately preparing its upcoming beta test in July. It is said that the Beta will be placed as a Grant Game Contest (GGC) with 2 Million USD rewards and massive NFT drops. This incentive tournament is predicted to be a huge gala in the crypto space.
The long-criticized pain points of the majority of P2E games are pyramid scams and fraudulent and unsustainable projects. The upfront investment into a GameFi 1.0 is also a friction that prevents massive adoption. "Free Play to Earn (FP2E)" model brings the world a new picture to combine blockchain with gaming, along with free NFT staking. Mhaya2023 which derived from Monopoly, the simple, easy yet addictive board game driven by 13 pivotal roles of NFTs in the creation of the story-telling, scaling the fun that a real casual match should have.
"Mhaya2023 gives an innovative way to achieve the fair gaming experience by non-upfront, non-early bird winning, snatches back the interest allocation from the minority, guilds and cheaters, hence creating an anti-monopoly game metaverse," said Shelby, the founder of Firestone Global. "We thrive on reforming the GameFi world to truly realize on-boarding web2 to web3.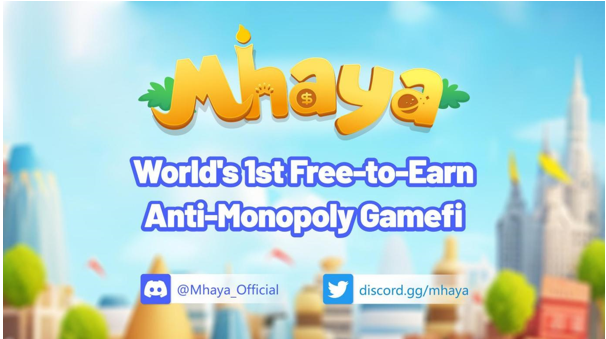 Website: www.mhaya.com