In the dynamic landscape of blockchain technology, the spotlight is now squarely on Layer 2 solutions like Optimism, Arbitrum, zkSync, and Starknet. With recent launches and token distributions, zkSync has emerged as a frontrunner. Boasting over 3 million independent addresses, a staggering $4.58 billion in funding, and $700 million in locked assets, zkSync is set to usher in groundbreaking projects.
Raydius, a seasoned Layer 2 infrastructure service provider incubated by Binance Labs, has officially entered the zkSync ecosystem. Building upon zkSync, Raydius introduces an innovative Launchpad platform, positioning itself as a hub for high-quality projects within zkSync. Serving as a bridge between early-stage projects and the crypto community, Raydius also offers project research and value assessments to mitigate risks for investors.
Backed by investments from Binance Labs, Blocksync Ventures, MoonWhale, GBV Capital, Kryptos, and LD Capital, Raydius has emerged as a standout player in the field. Their focus on product development, user service, and extensive experience in blockchain development and cryptographic algorithm research has contributed to their success. Prior to entering zkSync, Raydius had already gained recognition in the Layer 2 space, introducing innovative features. Notably, the Raydius Bridge Aggregator simplifies the process of switching between different cryptocurrencies, allowing users to choose different applications, supported assets, and optimal fees via Raydius.
Furthermore, Raydius facilitates bidirectional bridging with other Layer 1 and Layer 2 ecosystems, implementing proxy smart contracts for convenient interaction with other chains while ensuring the security of funds.
The combination of a talented team, technical prowess, and strategic investments has propelled Raydius to be chosen for the Binance Labs Incubation Program in November 2021, securing further support from Binance Labs.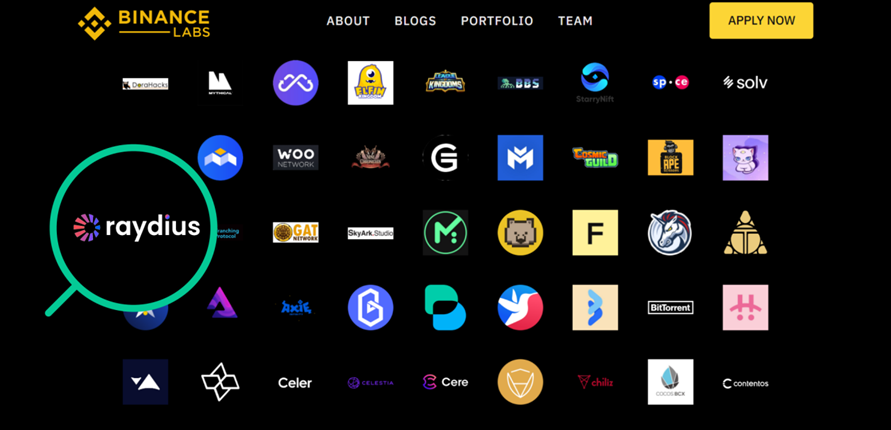 Building upon this foundation and in light of their entry into the zkSync ecosystem, Raydius has extended their technical advantages and unveiled their Launchpad services, introducing four major innovations.
One noteworthy innovation is Raydius' NFT mechanism within their acceleration engine, based on the ERC-1155 protocol. This mechanism is designed to provide all users with a stake in all IDOs on the platform.
Additionally, Raydius has introduced precise platform tokens within their ecosystem, serving as not only exchange mediums but also powerful governance tools. Token holders can propose suggestions and vote on critical decisions regarding the future development and direction of the Launchpad platform, enhancing the scientific and democratic aspects of Raydius' Launchpad.
Raydius has also innovated by offering a cutting-edge combination of decentralized exchanges (DEXs). They are set to construct their DEX based on the zkSync DeFi protocol, providing a one-stop liquidity-as-a-service (LaaS) solution. Beyond traditional DEX functionalities, Raydius' DeFi protocol on zkSync includes limit orders on-chain and automatic compound LP fee returns.
Lastly, Raydius presents a novel liquidity hook protocol. Raydius will create "hooks" based on zkSync, contracts running at various points in the lifecycle of liquidity pools, allowing for dynamic fees, on-chain limit order additions, or serving as time-weighted average market makers (TWAMM) as pools diversify large orders over time. This innovation introduces a "singleton" contract where all pools reside within a smart contract, creating a comprehensive platform with efficient routing capabilities, tailored pools, and cross-pool efficiency.
In an industry where many projects lack technical support beyond whitepapers, Raydius stands in stark contrast. Their innovations are underpinned by a strong technical foundation honed through their early achievements in cross-chain bridges and middleware development.
Notably, early projects on Arbitrum rewarded early users with airdrops exceeding tens of millions of dollars. For instance, Camelot, a top DEX on Arbitrum, saw its token surge from $200 to $4,200, marking a 21-fold increase. AIDOGE, another example, soared from an initial $0.000301 to a peak of $0.08112, boasting an astounding 372-fold growth. Similarly positioned as a Launchpad on zkSync, Raydius holds the potential to recreate a wealth narrative, capitalizing on its technical expertise.
In conclusion, Raydius was founded with the vision of democratizing blockchain technology, making blockchain transactions more accessible to all users, and enhancing connectivity and cohesion within the blockchain ecosystem. Now, with their entry into zkSync, this vision remains steadfast and even more resolute. Raydius acknowledges that, in addition to offering top-tier cross-chain services, facilitating convenient funding channels for startups and providing greater opportunities for investors to participate in early-stage projects are equally important.
As a seasoned Layer 2 infrastructure service provider, backed by Binance Labs and a multitude of renowned investment institutions, combined with their exceptional technical acumen, Raydius has positioned itself advantageously. Venturing into zkSync represents a strategic move, aligning with the clear trend in zkSync's narrative. There is every reason to be bullish about Raydius' vast potential for growth and its capacity to emerge as a significant player in the field.